Geniet van yoga in Antwerpen Zuid
Namasté en welkom in onze sfeervolle yogazaal waar yogalessen worden verzorgd door Jolanda van Urban Spirit & Carina van 2060flow. Flow urban in de Yogashala.
Gelegen in een oud schoolgebouw met kunstenaars, scoutsactiviteiten & eutonie bieden wij yogamomenten aan in een goed verlucht lokaal op verschillende tijdstippen.
Bij mooi weer gebeurt dit ook weleens op het grasveld van de binnentuin.
Volg je liever yoga in je eigen bubbel dan kan dat via Zoom livestreaming.
Contacteer ons voor de link van de door jou gekozen les.
CONTACTEER Jolanda OF Carina VOOR DE LINK VAN DE DOOR JOU GEKOZEN LES.
lesstijlen
Hatha Yoga
Zachte, toegankelijke yoga. Ademhaling en beweging komen samen.<
After work Yoga
Een zachte les om ontspannen en uitgerust aan je avond te beginnen.
Yin Yoga
We bewegen rustig en blijven lang in een houding, zo komen we in een diepe stretch, er onstaat extra ruimte in lichaam & geest.
Vinyasa Yoga Flow
Een actieve les met veel variatie in de houdingen & zonnegroeten. Kom mee flowen op het ritme van je ademhaling.
Vinyasa all levels = een pittige & actieve les
Vinyasa slow flow = een rustige variant van all levels, een ideale les om het weekend in te zetten.
Yin Yang Yoga
Het beste van twee werelden : een blend van twee polen. We zoeken een balans tussen energie en rust, tussen kracht en flexibiliteit.
Core Stability Yoga (deze les is enkel online of live in Het Oude badhuis – 2060 Antwerpen te volgen)
Je core vormt de kern van je lichaam. Stabiliteit in je centrum beschermt je rug en zorgt voor een goede lichaamshouding. Deze les is een combinatie van vinyasa en versterkende houdingen.
Heb je nog een vragen ? Bekijk eerst even onze website :
Jolanda van URBAN SPIRIT
Carina van 2060FLOW
Vind je ook daar geen antwoord? Aarzel dan niet om Carina of Jolanda te contacteren via mail
LOCATIE
YOGASHALA
HERTSDEINSTRAAT 13
2018 ANTWERPEN
1ste verdieping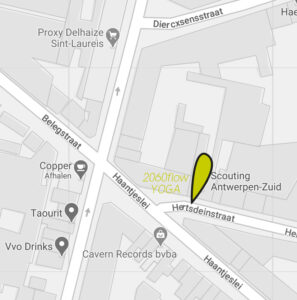 CORONAREGELS YOGASHALA
KOM NIET NAAR DE LES ALS JE ZIEK BENT